SO THE STORY GOES…
The Sweet Meats Slaughterhouse was founded in 1895 by Wilhelm Schröder. Internationally known for his advances in industrialized butchery…he produced 30% of the meats consumed in the United States. In 1915 tragedy struck the small town he called home when all the livestock took some unexplained fatal disease. The ever resourceful Schröder turned to the only available meat. The townsfolk. When they discovered the terrible truth – they enacted their own form of justice. Feeding the once prolific Schröder to his own machines. The Sweet Meats Slaughterhouse remained eerily quiet and vacant..until one night…horrible noises resembling music emanated from the dank hallways.
Z.WAGER
†
HE WHO BRINGS FORTH THE END TIMES 
†
"Did the abandoned Sweetmeats Slaughterhouse call to him or did his wretchedness breath life back into those sorrow festooned hallways? The lost murmurs and whispers echo throughout and build to a cacophonous choir…resonating endlessly. In a state of controlled amnesia he runs the day to day operations of the human processing plant. Over-sees the slaughter to distribution to disposal. Perhaps his hand was forced at one point…but that life is as dark as the blood soaked secret stained walls. Only speaking in bantering absurdity. With the help of his fellow butchers in crime..he is able to infect the world with his flavor of madness."
RAGS
†
HE WHO DONS THE FALLEN'S FLESH
†
Coming from remote hills and farmland in the middle of nowhere, literally wearing the flesh torn face of his victims… Followed with a barrage of white noise coming from the metal bloodied strings used to sever throats, attached to the wood from a old crooked oak tree and then dipped in black tar of the remote wastelands.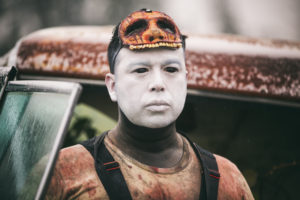 BUZZ
† 

SHE WHO COMMANDS THE SWINE ARMY

 

†
The Buzzard wears a mask made of human flesh, carefully sown together from the flesh of the wild metaphorical pig. Those that have crossed her path are slaughtered and fed to the wild pig army.
ZERO
†
HE WHO BEATS THE DRUMS OF THE APOCALYPSE
†
A sharp tongue and penchant for carnality drove this disgraced preacher into the throes of madness. Once a highly praised man of the cloth, his fall from grace was swift and violent. A dark revelation infected his mind and heart – a vision of the rise and triumph of the forces of evil over good. He attempted to share his gospel to a shocked flock. They did not take kindly to his blasphemy, and to prevent him from spreading this heresy further they cut out his tongue. Yet Hell's mercy bestowed upon him a mask forged by the Hellfire Blacksmith. The mask imbued him the ability to infect people's minds without speaking. Reaching deep into their psyches – driving them mad.